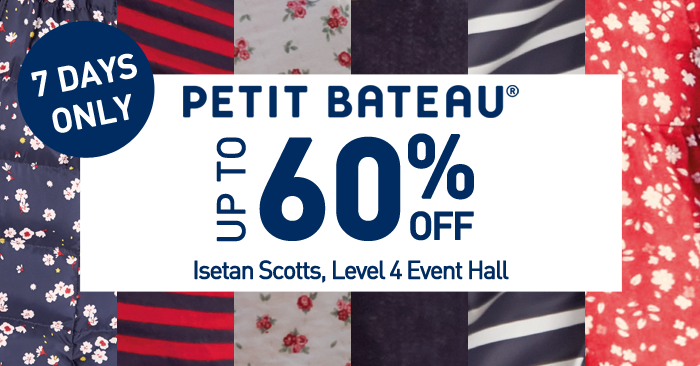 Founded in Troyes, France in 1893, Petit Bateau hails from a rich history that for many conjures sweet memories of childhood happiness, passed forward from generation to generation.
Petit Bateau offers a full line of clothing and underwear made for children of all ages, as well as for their parents. Consistent high quality coupled with French styling makes Petit Bateau unique and loved worldwide.
The iconic brand of pants and t-shirts has become the benchmark of multigenerational style for babies, children, men and women around the world. Its beautiful material of infinite softness and impeccable cuts cross the seasons accompanies us in all moments of life and takes us from childhood to becoming an adult.
Petit Bateau will be having a bazaar sale with items going up to 60% off from 14 to 20 April at Isetan Scotts Level 4 Event Hall.
Venue: Isetan Scotts Level 4 Event Hall
Date: 14 – 20 April
Website: https://petit-bateau.sg/
Facebook: https://www.facebook.com/petitbateausingapore
Instagram: https://www.instagram.com/petitbateausingapore/